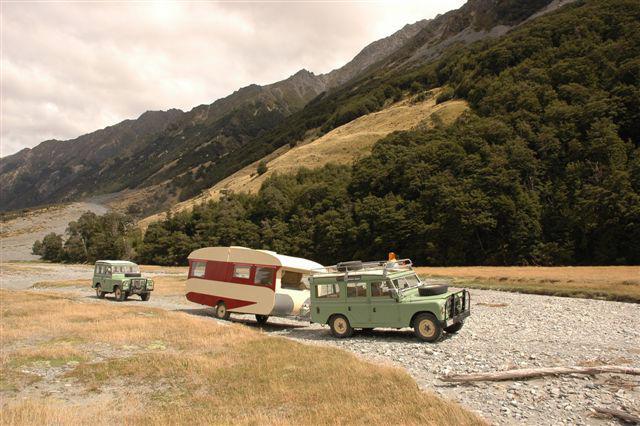 The convoy travels up the Hopkins River
Well! What an incredible time we have had to be sure! I scarcely know where to begin!!! But I will try to relate our adventures in the best way I can...
After leaving home on 4th February 2010 we headed south; south to Lake Ohau, and what turned out to be a rather exciting time! With such a large convoy we had to travel slowly along the highways and byways to our destination. High speeds were out of the question. Several days journey found us in Omarama, and our first port of call was to Lex and Jan Perriam, the kindly couple who own the Huxley Base Camp. We stayed the night with them before making the trip up to the Base Camp. Once at the Base we had to plan how everything was to be carted up the river to where we planned to camp... the same location as last year. Our goods and chattels had to be rearranged to suit, as much of the load was being carried in our holiday bus, a 1952 Leyland Comet.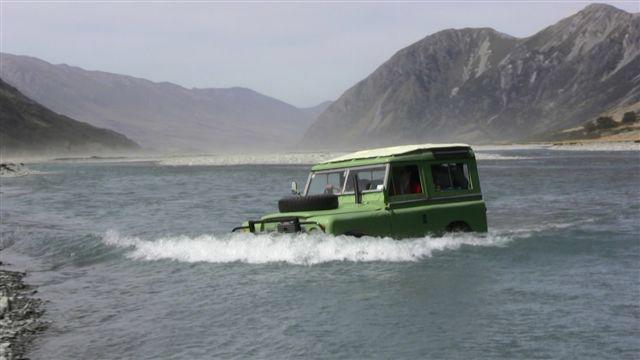 We went for a drive up the Hopkins River the following morning, which pleasantly dawned bright and fine. We wanted to check out the river, and see if it's "course" had changed since last season. And yes, it had changed quite considerably! It meant a totally new track up the river would have to be found, and worse still, the river had recently been in high flood! Would we be able to ford the river crossings without loosing the caravan? Phew! We hoped so!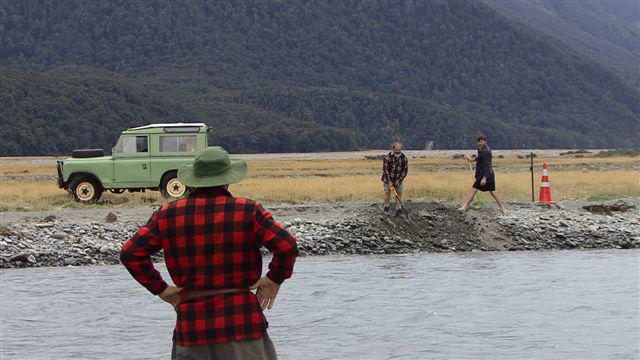 After a couple more days spent in this manner we were reasonably satisfied that we had a suitable route up the Hopkins River to the Huxley River Mouth. So finally the big moment came... to leave the Base Camp and tow the caravan on the first leg of the journey... to Monument Hut. This took all day, stopping continually to move large rocks, fill holes or cut away steep banks to allow the caravan access without damage. The caravan was left parked at Monument Hut until next morning when we returned to ford the first river. Being the first river crossing we were pretty concerned of how the caravan would handle the swift current. Plus the water at this crossing was the deepest to ford of all the crossings.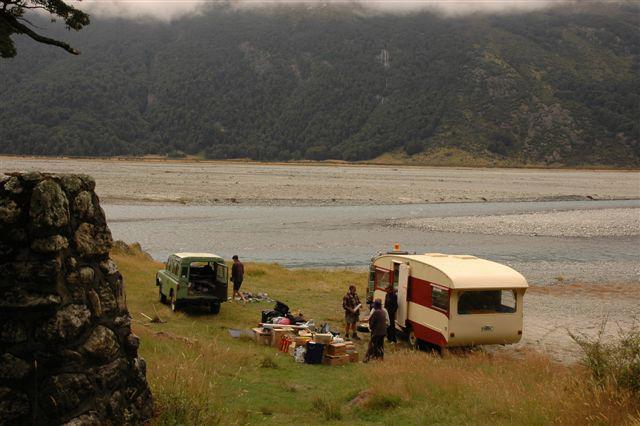 So we decided to remove all the supplies and precious goods from the interior of the caravan and stacked them on the river bank. It made a pretty interesting sight I can assure you, as some passing trampers commented!!! Anyway, we drove the SWB (short wheel base) Land Rover through the river to the far side first. It is our little "Tug".The LWB (long wheel base) Land Rover was pulling the caravan. After fixing cables between the two Land Rovers the signal was given to pull, and pull we did! The caravan entered the water in fine style, and with both Land Rovers pulling like fury the caravan sailed across the river. Water entered through the cracks under the door and wet the floor to a certain degree, both nothing major happened... although a passing helicopter circled for a second look, as though he found it rather incredible to see a CARAVAN crossing a raging mountain river! It wasn't exactly the sight you expect to see in that kind of place.
Well, with the deepest ford crossed, we now had another ford... and this was to be the swiftest! Not only swift, it also had a very steep exit on the far side which would make it impossible to get the caravan or even the LWB (long wheel base) Land Rover out of the river.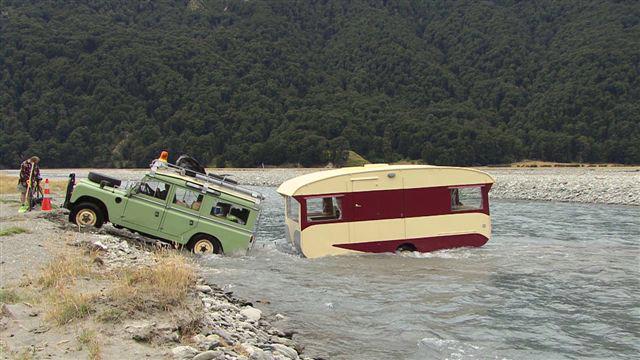 It mean driving across with the SWB Land Rover and the shovels, spades and grubbers to hack an exit track from the swiftly flowing river below. The SWB Land Rover, being short was best suited for this job, and indeed, did it very well. After quite sometime digging and shoveling we were happy with the state of the exit, and drove back across the river to get the caravan and LWB Land Rover. Connecting the two Land Rovers together in the same manner as in the previous ford (with a long cable) we towed the caravan across. Although the river level was slightly lower than the ford at the Monument Hut, this new ford had a terrific current which built up higher on the upstream side of the "slab sides" of the caravan, making it just as deep as the first ford so to speak. The Land Rovers were performing well, the system we had was fine. Only a couple more smaller crossings we would be there. But sadly it wasn't to be... at least not just then, because soon after leaving the second ford disaster struck!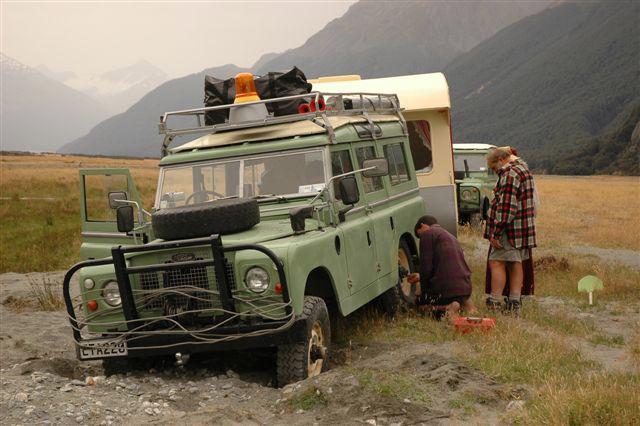 Simon, who was driving the LWB that had the caravan in tow, found he had no drive. The vehicle would not budge from the place where in came to rest... with a back wheel in loose gravel and both front wheels pretty deep down too. The gears seemed to be jammed. No matter what gear he chose the engine stalled each time he let the clutch out. What could it be? After digging around the wheels a bit and talking over what could be wrong Simon jumped in and had another go at moving things. Suddenly there was a loud bang from the rear end! Oh dear! Could it be a broken axle? We were carrying spare axles, so each axle was removed in turn to find the offending piece. However, both axles were perfectly alright. Then the truth dawned at last. The rear diff had "blown" Something had broken inside... and among all the spare parts we were carrying we had not included a diff head. Isn't that always the way? The part you don't carry is always the part that will fail. It certainly happened with us!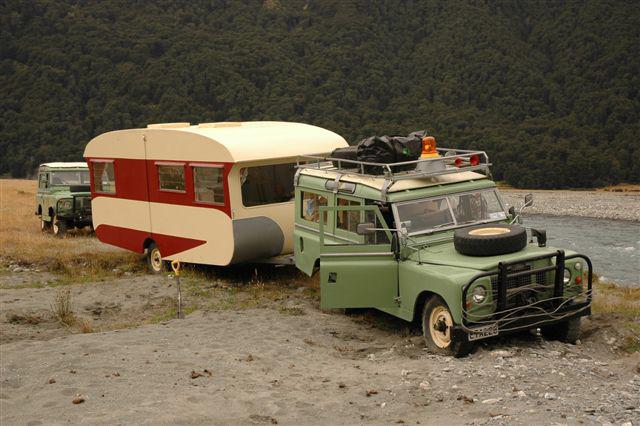 Here we were away out in the middle of a braided river in a very rugged environment with a caravan. What were we to do? We couldn't tow it anywhere much because we had just crossed a bad ford which had needed two vehicles to pull it through. So we certainly couldn't go back, and as for going forward, well, that was mighty risky too. Although the next ford was reasonably shallow and wasn't swift, it had a bottom of loose pea gravel, which meant without the second Land Rover we could easily become stuck fast. So no, we had no choice but to leave the caravan perched on a tiny dot of grass with water not very far away whilst we towed the LWB Land Rover back to the Huxley Base Camp where we could sort the problem out. We had managed to restore two wheel drive to the LWB model before moving the vehicle so it wasn't too hard to get back to the Base... just needed help in the fords.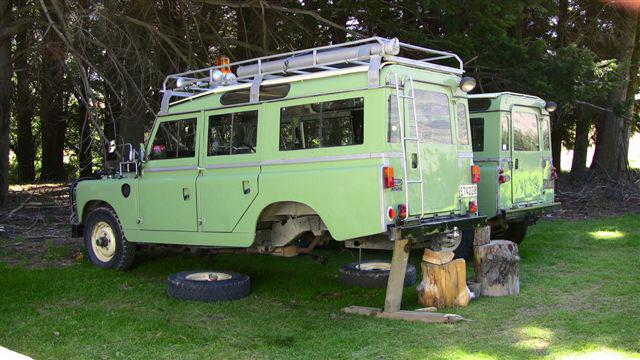 Back at the Base we removed the back axle from the Land Rover... springs and all. Then we took the diff head out to check the problem. It was found to be a retaining pin that had decided at that precise moment to drop out into the "spider gears", which "munched" everything up, thus jamming the gears. The bang we heard was when the gears gave out completely and "free wheeled". There was also a massive hole in the back of the diff housing... and it had let all the oil out! Just as well we didn't know this before we towed it back through those fords or we may have been extra worried!!!
Well, so we had got into a pretty sticky problem. The caravan was sitting out in the middle of the Hopkins River with the Nor' West wind rising fast. Being in such an exposed position we were very worried that the caravan would be blown over. We had a blown diff in the LWB Land Rover, and being a high ratio diff head they were not very easy to come by... Finally to top things off we had a huge hole in the diff housing. What could we do to solve all these problems?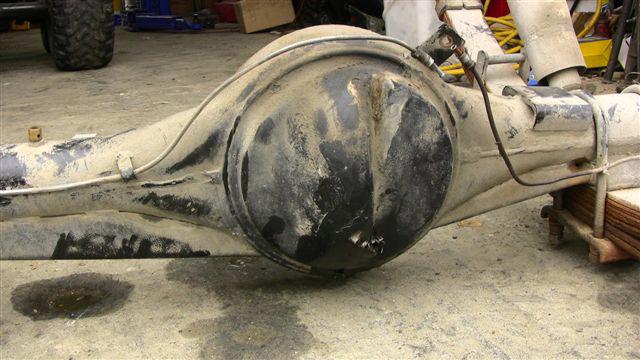 There was only one thing to do. Load the various diff parts onto the wee yellow trailer, hook it behind the bus and drive through to Omarama. A phone call was made there to a wrecking yard in Oamaru who said yes, they had a diff suitable... same spline and crown wheel details. So, after leaving the diff housing at the local garage at Omarama to be repaired, (plus a couple of tires that had punctures) we hurried through to Oamaru to the wrecking yard. Upon arrival we found it was not the correct model diff head! So much for them. What would we do now? Aha! A phone call through to Christchurch to Hoskins 4X4, a quick chat and a few credit card details and we were on our way back to Twizel to await the arrival of a reconditioned diff head the next afternoon. They provided some stunning service we happily recommend!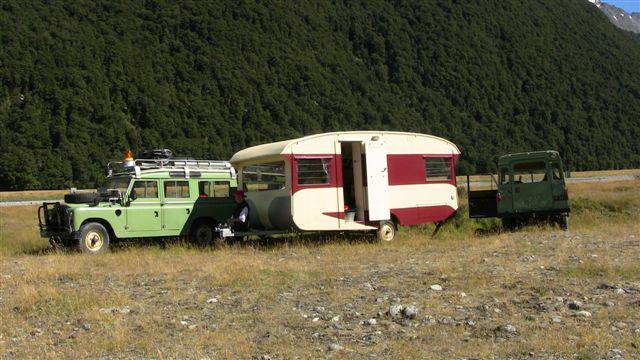 This is where the caravan rested, in the middle of the Hopkins
whilst we sorted out the Land Rover diff
So with happy hearts we arrived back at the caravan later in the week to find everything still standing as it should be. And we successfully made it through to the place we had chosen to camp later that day. With the caravan settled in and a couple of the tents erected we when back to the Base Camp for a peaceful nights sleep... the first for some days I can assure you!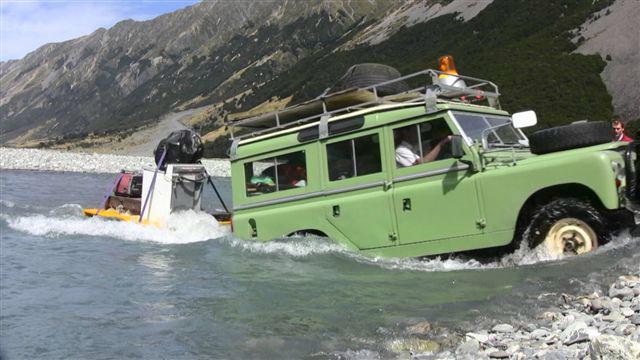 The next day we loaded the rest of out belongings into the two Land Rovers and trailer and made our way up to the caravan. This trip was a bit different because we battled a howling Nor' West gale all the way... with dust storms continually crossing our path, making life jolly unpleasant for a time! After spending all afternoon putting the finishing touches to the camp we settled in for the night very happy and contented.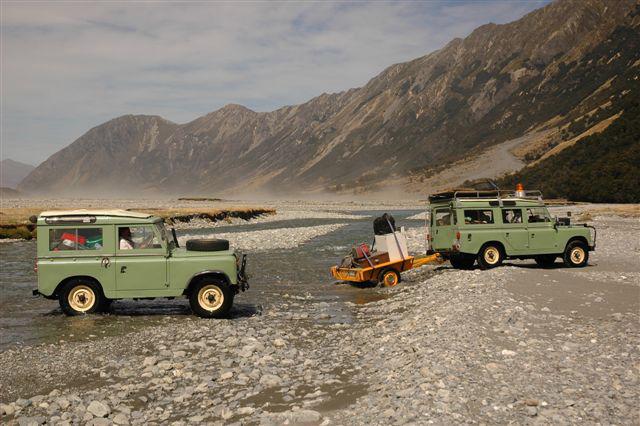 Inside we were relaxed and cheerful, looking forward to what lay ahead. We had achieved the impossible and that was something in itself to be chirpy about! Outside the Moreporks and Kiwis broke the starry stillness, whilst the rushing mountain river slipped over the moonlit stones. All was well...
A rifleman called outside the caravan window. Our cat sat up, all alert…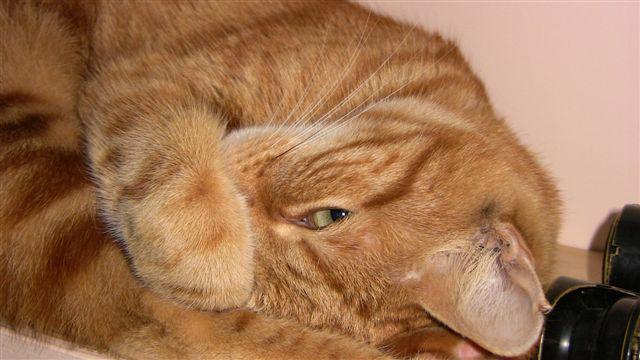 the wee bird outside was making fun of Puss, and he well knew it! With a look of deep disgust, the cat lowered his golden head into his blanket and went off into the land of pussy dreams… where he could catch birds to his hearts content!
It was early on our first morning at the Huxley River mouth; the warm rays from the morning sun sparkled over the rugged Naumann Range as we gathered to make plans...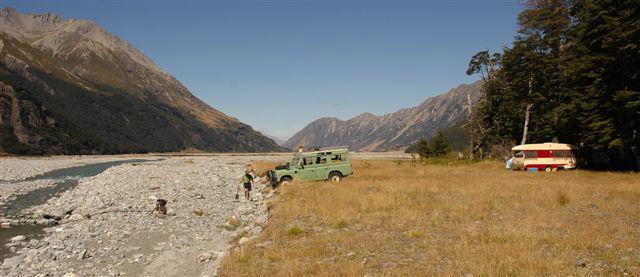 We could walk from the caravan down to the river to
start the water pump or get fresh food from the "fridge."
A Dam had to be built in the river to provide a suitable pool from where we could pump fresh drinking water and build a "fridge" to keep our meat, milk and butter cool. The "fridge" was an ex Airforce steel container originally used for carrying flares in aircraft. A friend gave it to us for the operations.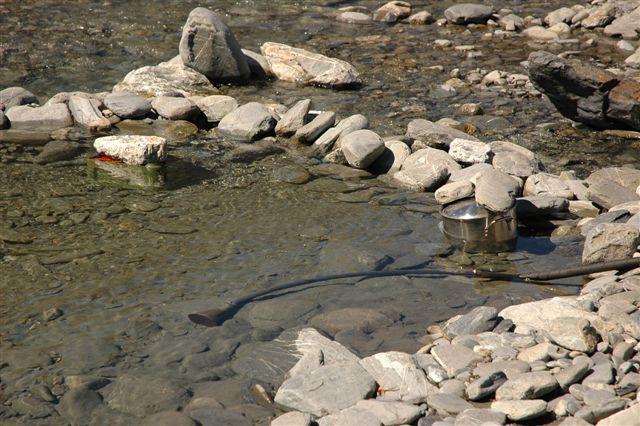 We couldn't have had anything better really, because it had a rubber seal and a screw top which meant we could submerge it in deep water and hold it down with a large stone. It was a real help indeed!
A water pump driven by a petrol engine was set up down next to the dam to pump water up to the caravan, where we had several large storage tanks, so on days when the river was in flood we would have heaps of drinking water.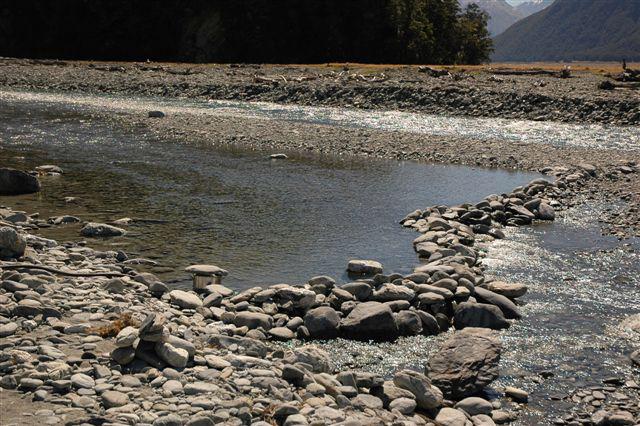 Netting was placed across all the caravan windows to prevent sandflies entering. Tents were erected for the various supplies. However we learnt very quickly that we ought to have stored the food in large plastic bins with clip tops. We had packed biscuits and things into cardboard boxes… and soon found that the local mice had a delicate taste for gingernut biscuits, sugar, chocolate, and salt! They loved them!!!!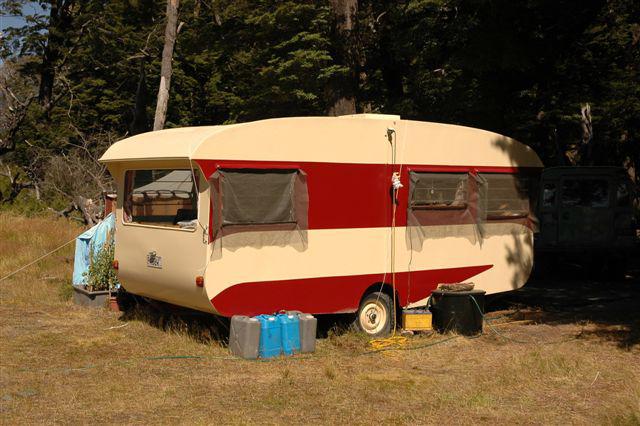 Another large tent was set up right alongside the caravan to store food and also to hang wet clothes and jackets on rainy days.
A shower tent and also a Toilet Tent was put not far from the caravan. A gas califont provided hot showers… and believe me it was lovely to have a piping hot shower after a long days hiking!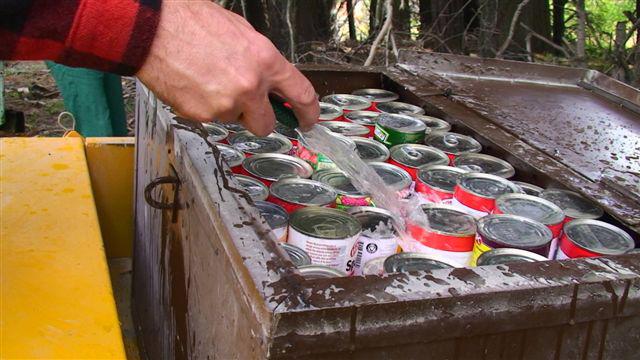 Tinned food of all kinds was stored in two very large travelling trunks which were on a small trailer we'd towed in. It was fun to choose something nice each time. We had sweets (lollies and chocolate etc) in one box… and dried fruit of various kinds in another box. This way we could get what we wanted easily.
So, we settled into our new life very happily. To lie in bed in the mornings and scan the peaks of Naumann Range with binoculars for Chamois and Thar was an experience never to be forgotten.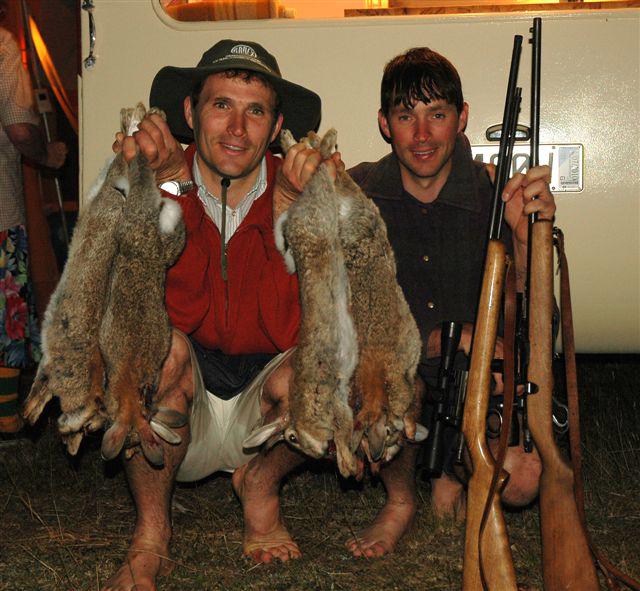 After an evening shoot, Adam and Simon display their "catch."
Rabbits and Hares were plentiful across the Hopkins River out on the riverflats. We got a little tired of rabbit, rabbit, and rabbit! Even our cat decided he'd had enough and turned up his nose at anymore rabbit. Spoilt? I certainly think so!!! It was too easy to wade across the river with a rifle and bring back half dozen plump young rabbits for lunch.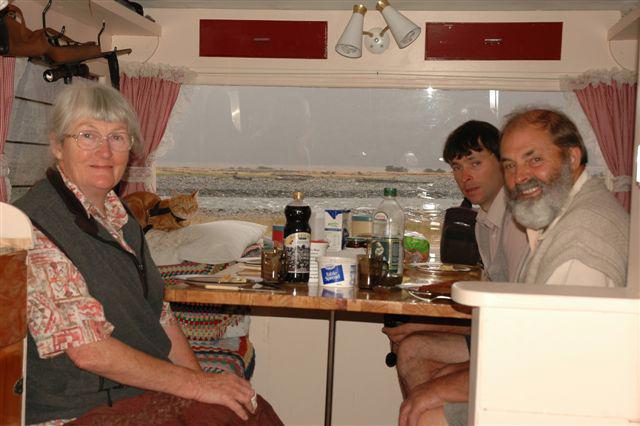 After a long tiring day tramping the hills, it was always
good to relax over the evening meal
Very occasionally a passing tramper or trout fisherman would pay us a call to give us a weather forecast (we were out of radio and telephone range completely!) or a little news of the outside world. The first question they always asked us was how in the world did we ever get a caravan up there? You have to agree it must have been a most unexpected sight!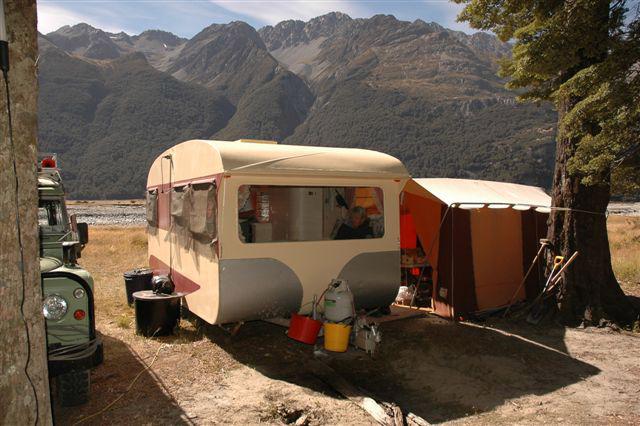 Now you'll ask what did we spend our time doing. Well, we led a very busy life. From daylight to dark we were on the go in one way or another.
Early on we discovered it easier on our limbs to grid search around a hill than up or down. We would climb to a certain level then move around keeping at the same height with the help of the GPS units. The GPS worked amazingly well… even in the dense bush. It was rather like radar. We couldn't see out of the bush at times… yet we knew where we were and we could even travel several miles in a dead straight line.
The radios kept us together… as did the whistles… For instance, let me explain how we operated in some really thick bush on a steep mountain side.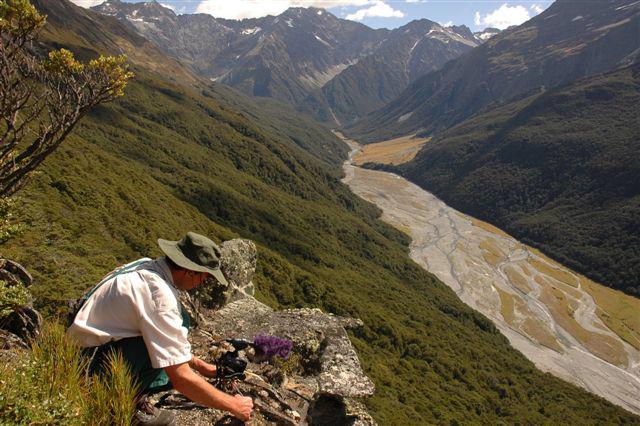 One day we climbed to the 3500ft level and sat on a knob overlooking a vast bush covered slope. This bush covered an area from the riverbed up to about where we were resting, and to about 4 miles distant. It was a tough area, fraught with danger. Deep ravines, treacherous waterfalls and damp mossy covered rocks made it a tricky job. High on the knob we were on we planned a route we wanted to travel so entered a straight line in one of the GPS units. We wanted to see what the interior of this block was like, so we chose a route through the middle. Looking at the GPS we would drop down to 2800ft where we would meet a ravine and then travel out somehow to the main river bed.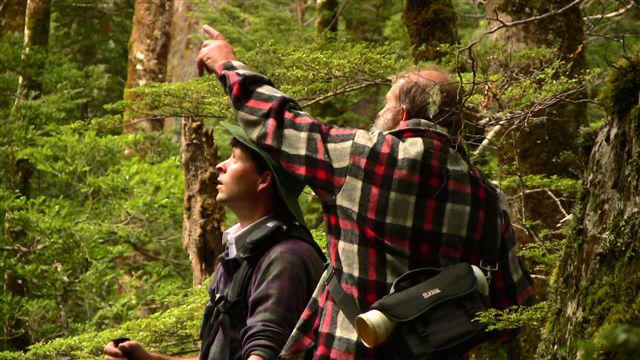 Because we hadn't been through this area before we didn't know what challenges lay in store for us. Unscaleable cliffs, rocky gorges… anything could be in the way. We were well prepared with ropes and things, but all the same, we hesitated awhile before making the decent! One of us had the master GPS with the plotted course… the others were spread out to either side. But finally with a last look over the green carpet far below we lowered ourselves off the first cliff and into the bush. Slowly yet steadily we moved on.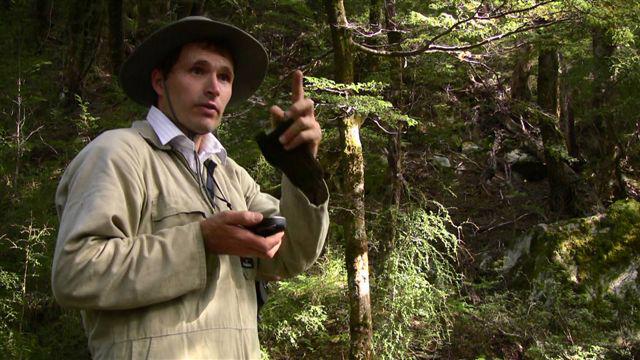 A radio call from one searcher requested the others to blow their whistles. Then a call from another… backwards and forwards the radio calls and whistles blew. Everyone was keeping in touch with the master GPS for the course… and staying at a distance of 20 to 100 yards apart, depending on how dense the bush was. Thicker patches were thoroughly checked before we moved on. On average we covered about 300 yards per sweep.
Moving forward in a straight line it was natural to encounter bluffs of basically any height. If there was no easy way down within a reasonable distance either side of our route, a rocky decent was in order. We'd look for a stout tree near the cliff top and throw a rope around it and down the bluff. Both ends were down the cliff you see… it was just wrapped around the tree trunk.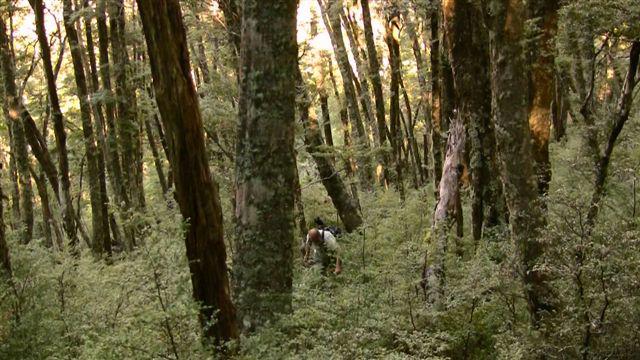 We'd shin down the rope to its end… if the cliff was a long one, and then find a foot hold to balance there for a few minutes whilst we found another tree or branch to lash the rope to. Slowly yet carefully we'd descend to the bottom of the cliff and continue on our way… keeping a nice straight course through the rugged terrain.
When we reached the ravine I mentioned earlier we turned down the creek to follow it out to the main river. It wasn't long before we found waterfalls in the order of 60 feet high blocking our way out. So we climbed out of the ravine again onto the ridge above and moved out that way. By climbing down along the very edge of the ravine we could look down to check for wreckage.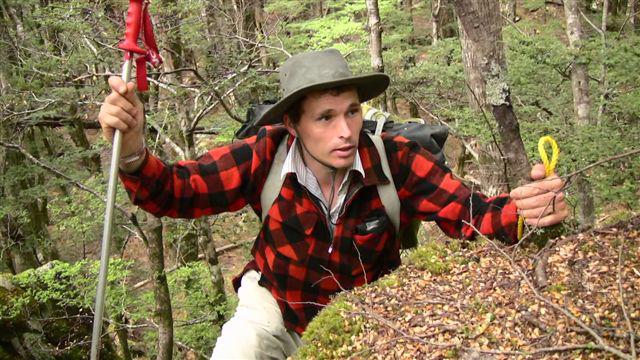 Travelling through such unforgiving country carries a tremendous risk… a risk we were reminded of time and again! Let me tell you of a couple of the more terrifying moments...
One day I whilst trekking through the bush. I had been filming some fantastic views from one peak and decided to meet up with my brother on another peak. We were in contact by radio and knew where each other was. I would have to drop a couple of thousand feet to the river valley… cross it, and climb another few thousand feet to meet him so we could do more video.
The rocky outcrop where I was stood overlooked the Huxley Forks huts. They looked so small and faraway. The snowy mountains peaks, made all the more glorious with the last wreaths of early morning cloud lingering around the tops, towered majestically in the background of the picture book scene.
Suddenly my thoughts were bought to an abrupt halt… "Where are you now?" called Simon on the radio. "I'm just putting the camera away" I replied as I turned to fasten the straps on my pack. "I won't be long; I just have to climb down off this knob."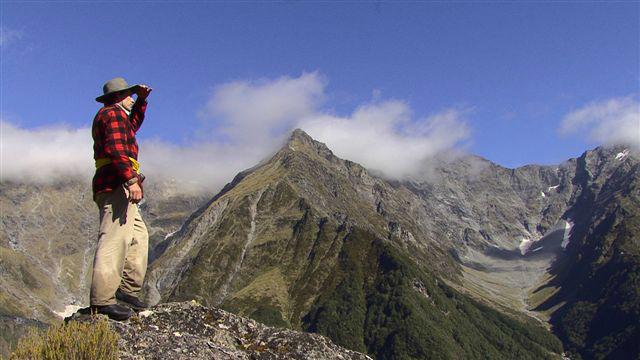 Adam, admiring the view from a lofty knob before decending into the valley below
Hoisting my heavy backpack onto my back and slinging my Mauser 8mm rifle over a shoulder, I glanced at the GPS to verify the route down hill. It was a course I'd never taken before, so I was totally unaware of the pitfalls ahead. But unhesitatingly I started to clamber down. The first bit wasn't too bad, just some thick scrub to barge through. Then suddenly a cliff edge ahead. What way now? I looked to the right and left. Nothing!
Then I spied a gap through the bush where I may be able to push through. Once through the gap I saw another outcrop I'd have to descend. This time there was no choice but to climb down. Although it was steep there were lots of smaller trees to hang onto, so at this stage I didn't need my rope. I was also using a ski pole to steady myself.
I had climbed down the mountainside in this manner several hundred feet when disaster hit. Stepping onto a flat ledge covered with dead beech tree leaves, I went to climb down, but somehow I overbalanced and pitched forward over into the abscess.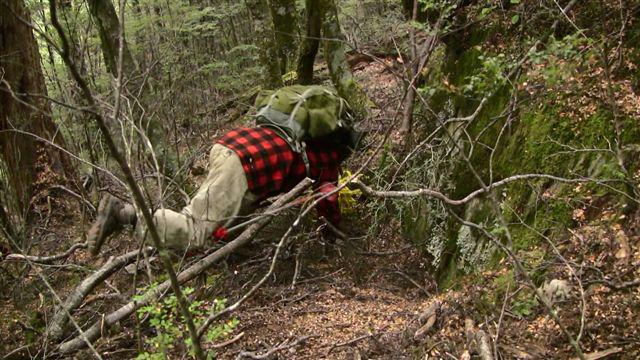 I have fallen over a cliff once before, and I don't like the feeling of not knowing what you are going to hit at the bottom! But last time was at night, in heavy rain at the back of Reefton. But that is another story!
But here I was… a bright sunny day and I was falling face downwards! As I fell forwards I closed my eyes and waited for the bump which would herald the end. After what seemed like an age the bump came. Amazingly where I landed 15 feet down, the ground sloped away from the bottom of the cliff. So when I hit the ground I didn't hit with full force… rather I "skidded" downhill at a great rate of knots. Even so my pack being so heavy came down on top of me like a ton of bricks. I was winded completely! My rifle somehow got tangled under me… with my ski pole twisted to one side.
After hitting the bottom of the cliff it was wasn't over. I slid forward to come to a VERY abrupt stop against a tree. I will never forget opening my eyes… to see this massive tree trunk in front of me. I couldn't believe I was still alive! Every part of me ached… and no jolly wonder! My fingers had been twisted backwards and almost sprained. My back was sore from the thump I got when I landed at the bottom of the cliff. It took a few minutes to recover and count my injuries. Needless to say I took exceptional care with the rest of the decent, I assure you!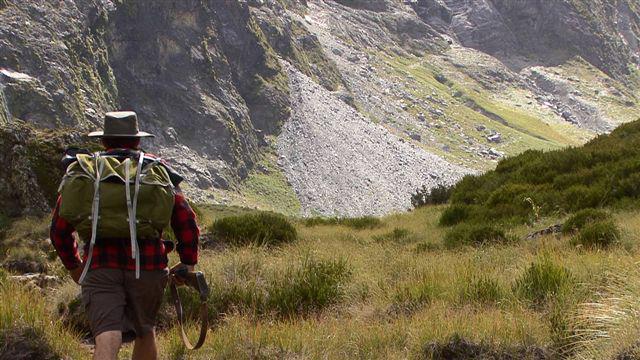 What about the time I was stuck on a ledge 5 mile's away up a valley at 5700ft at 6 o'clock at night, trying to take a short cut home over the tops. That was one of the scariest positions I have got into.
It was in Paradise Valley. Three of us climbed up to the ridge between the Huxley and Paradise Creek in the morning. We had lunch together at the top then split up. Simon stayed as radio link on the ridge… although he went to the 5500ft level. I dropped into Paradise Valley and walked to the top end. It was a rough trek through alpine grassland strewn with large rocks. My job was to check out the bush content in the valley.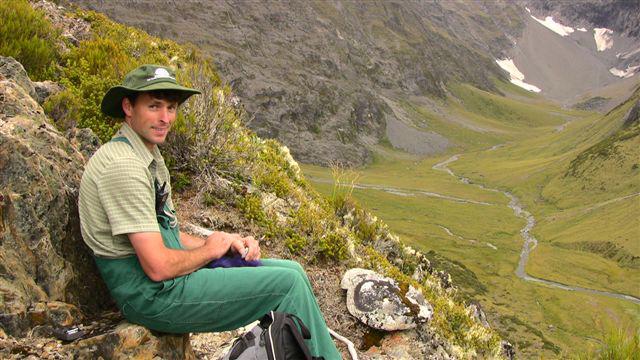 Anyway, as I said, I walked up to the end of the valley and though, hmm, it would be a short cut home if I climbed of the ridge to the east of the valley. I was at 4100 ft and the GPS said that where I though I could cross the tops was about 6500ft. It was 4PM. I could make it before dark easily. And I would have too… if I hadn't struck a patch of shinny smooth glasslike rock. It wasn't so much steep. It was so smooth and shiny! If I were to slip at anytime, I would not hit anything until I had fell at least 1500ft or more. And then I'd only bounce and keep going!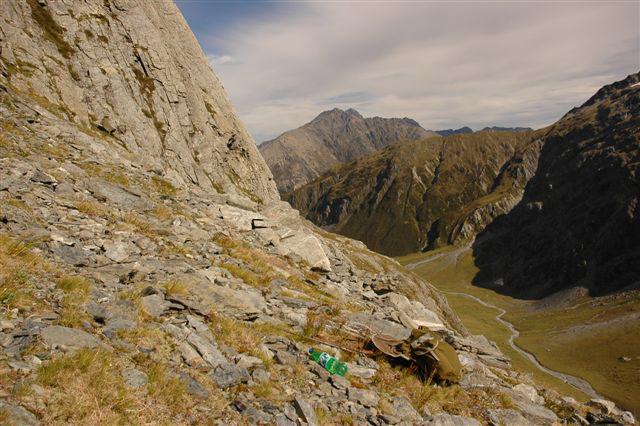 After looking up and then down, it didn't take very long to decide I wouldn't throw my life away like that. It was six o'clock at night. It'd be dark by 9PM. I had 3 hours to get back to the caravan. No more than that!
I decided to drop down to the valley floor and return the way I had entered. But it must be remembered one can climb a steeper hill than you can descend. There were places I'd never be able to get down… Scree slopes with ledges at the bottom. Little cliffs I had clambered up with few foot or hand holds. No! The only way was to find another route down.
This appeared impossible. I moved backwards and forwards to try and find access down with no success. Time was starting to run away. Much longer and I'd have to stay put for the night. I didn't relish that thought a bit. Here I was about 6500ft above sea level… not far from glaciers and snow. The air was icy cold. The sun had gone down behind the range. It was cloudy, but unlikely to rain. I began to start making preparations to stay the night. I had extra clothes in my pack. There was water for drinking in a mountain stream not far away. I had plenty of food… chocolate and dried fruit etc. My survival kit contained matches, so I began looking for dry wood.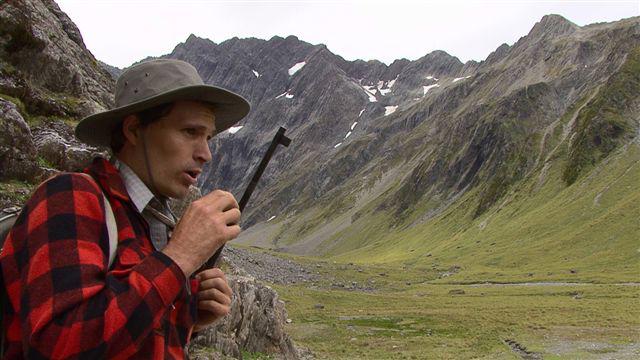 Although I was still trying to find a way out, I was prepared to make a camp. The rest of the family had been notified by radio step by step… but being so far away and out of sight they couldn't offer many ideas.
But finally I located a scree slope with a flat bit at the bottom. I scrambled down with great relief. It wasn't long before I reached the valley floor. I staggered down Paradise Valley as fast as my now very shaky legs would carry me.
Simon and Bobbie met me at the top of the ridge between Paradise Valley and the Huxley Valley… near where we had parted company earlier in the day. We were all very relieved to see each other, but knew our troubles were not over yet. It was after 8PM and we had 1500ft to drop before dark. We hurried along the ridge as fast as we could go. It became darker and darker. We were all very worried. But after a long slog through dense bush… slipping and sliding in the half light we managed to get out to the Hopkins River just on dark. We got back to the caravan at 9:30PM very tired out, and with a deeper respect for the high country.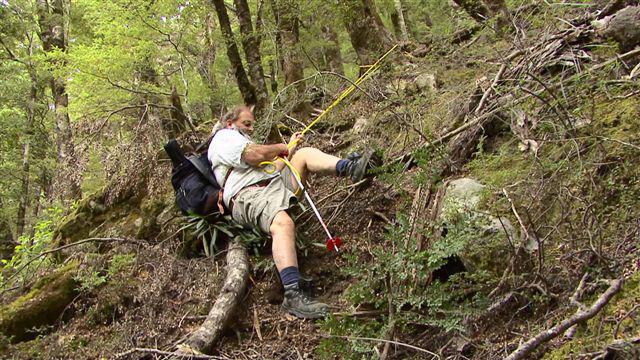 You probably wonder if I am accident prone, but the rest of the family also had their excitements. For instance, like the time my father slipped on a mossy log and slid 20ft down a slope littered with old beech tree leaves and dead branches to come to a rest with his feet tightly jammed beneath a fallen tree. And like when our Mother unfortunately slipped in the middle of a fast flowing mountain river and was hoisted to the bank absolutely drenched through. With several miles ahead of her to a change of clothes and a chilly night looming, Mother made all haste down river. To keep moving was critical if she were to keep warm. She arrived back none the worse for her misadventure.
Simon had a little fun too… although thankfully he avoided anything dangerous or scary. Simon is like a centipede on the hills… with two ski poles in his hands and a pack upon his back he makes a rare sight when climbing! One day he decided to take the cell phone with him up one of the mountains.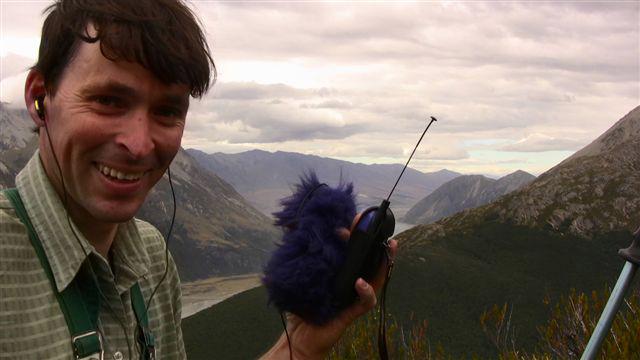 From 5500ft he managed to make a phone call out to Lex Perriam at Omarama. Lex chuckled with amusement when Simon told him where he was calling from, but gave a loud laugh when Simon said, "Don't think I'm going to climb up here each time we want to ring you!"
I'll give you a description of what we carried and what we ate. We carried packs loaded with camera equipment... 35mm and digital still cameras and HDV video cameras… plus all the necessary extras like microphones and earphones and spare tapes and film.
Binoculars, a bottle of water, spare socks and shoes, survival kit and extra clothing. I carried my rope around my waist, but Simon preferred to store his rope in his pack. We all carried a tin of fruit of some kind. It was well worth the effort I assure you! And the empty tin was handy as a cup for drinking from the various streams and creeks on the way down.
For breakfast we'd have Weet-bix with a tin of peaches and milk. Once up in the bush, we had muesli bars to snack on. Fruit Bars, dried fruit, tinned fruit and a small handful of mixed sweets made up our lunch. Jelly Beans turned out to be the best because of the high sugar content. We carried an amount of chocolate chips but rarely ate it. It made one too thirsty! The Apricot Muesli Bars were great energy boosters on a climb. After a days hiking we'd enjoy a good tea. The evening meal would be anything from fried rabbit to tinned stew. Always finishing up with plenty of cold jelly and tinned fruit! Yeast pancakes, with yeast used as the raising agent instead of baking powder were a great favourite too.
Climbing such a rugged craggy mountainous area with so much gear was very hard going indeed. We always slept well at night. I wonder why!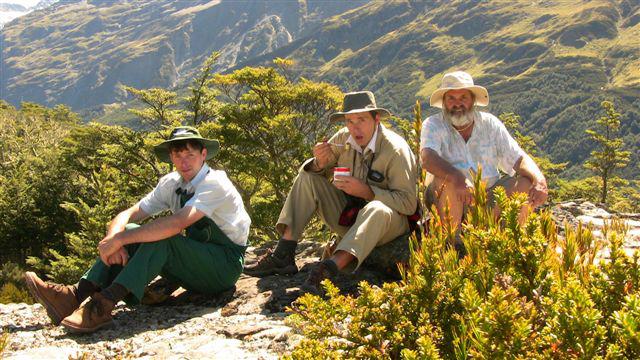 "The Three Stooges" relax after a hard climb
So you can see it was an incredible family adventure amidst some of the most beautiful country New Zealand has to offer. We had our hard times, like any family, but we also had our good times. And the good times seemed to make the bad ones fade into the distance! Times when the river rose in flood and we were stuck in the caravan for several days… or like when one is walking through the bush and heavy rain starts to fall. Your trousers and legs get very damp from pushing through waterlogged ferns and undergrowth. There is no shelter anywhere… the trees let the rain seep through onto your head with abandon! It trickles off your head and down your neck, and then you have an uncomfortable feeling down your back. Do you think that's terrible? It's even worse when you consider there may be a 1500ft high ridge between you and the camp!!!
You will want to know if we found anything. Yes, we found a couple of bones. One was on a scree slope; the other was in a river bed. See adjacent photo.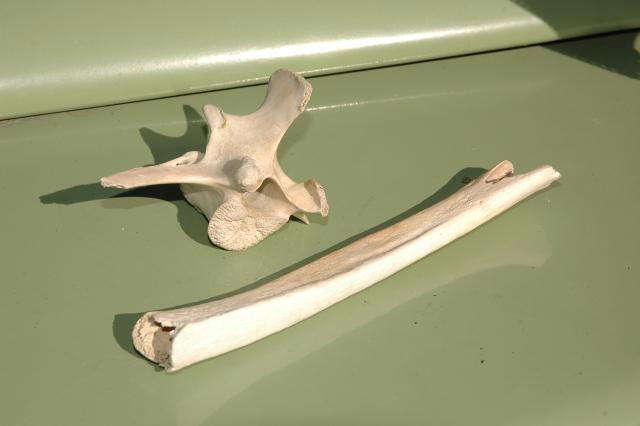 We are not sure exactly what these bones are from, though the long one does look human. But we have to get these analysed before we can say for sure.
Naturally, knowing the area we are searching, it will be very rare to find any objects of human origin. It is highly unlikely we would come across bottles, tins or items dropped by people over the years. The area is so rugged and dangerous not many people have ventured in. The main areas we are covering were never noted for their Deer populations either. There is no gold in the area, so no gold miners. Only Trampers, and lots of them over the years. But Trampers keep to formed tracks or ridge lines; so basically no-one is likely to have been in the bush in our area very much. This is why we never found a lot of items to date. In fact, not finding much is really a good sign. It just proves no-one has been there!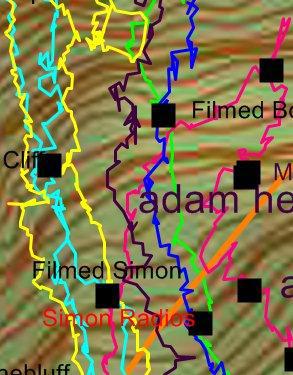 So finally we realised our time was up and decided to break camp. Home was calling. Work was calling, and we couldn't dally any longer. We had had a great time and had lots of memories to take home with us. Sadly we haven't located ZK-AFB and its occupants yet, but we believe we are getting closer. We have covered a vast area at the top of Lake Ohau. Our long hours of systematic grid searching is paying off, for we are slowly but surely eliminating the area piece by piece. Each pass or track we do is that much closer to where the 'plane rests. We will make it, never fear, but it may take a little time. We are very satisfied with operations to date. Everything went according to plan. We now look forward to next expedition… Over the coming winter we will plan where and how we shall search next season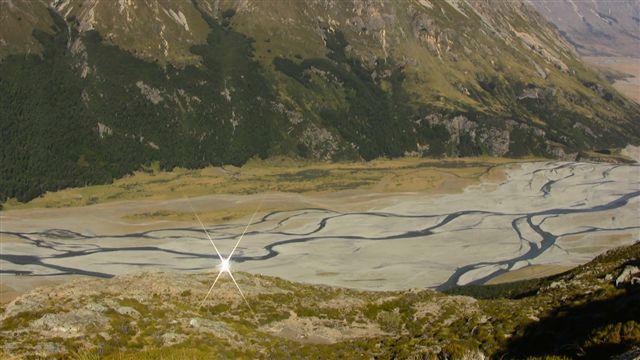 Heliography is an excellent means to pinpoint ones position. We all carried mirrors
for this reason. Notice the starry effect in the photo. Simon was
"flashing" to Adam from a distant knob.
In the meantime we will be doing more research, studying the many photos we have taken and interviewing more people regarding the missing plane.
As we said, it was very sad to come away, but gosh! We certainly have a lot to look forward to next year!
To find the missing loved ones and solve the mystery is a goal well worth striving for.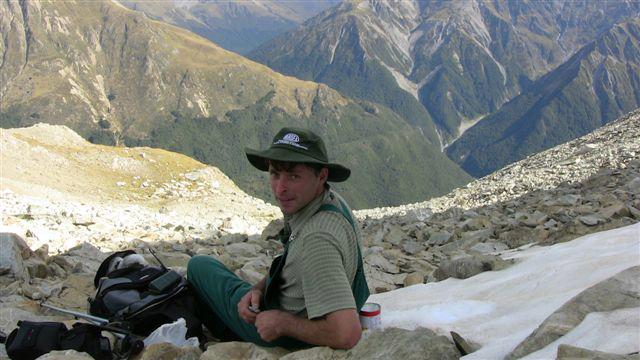 Simon resting by a Glacier before the decent. We often had to climb to great heights for mapping purposes