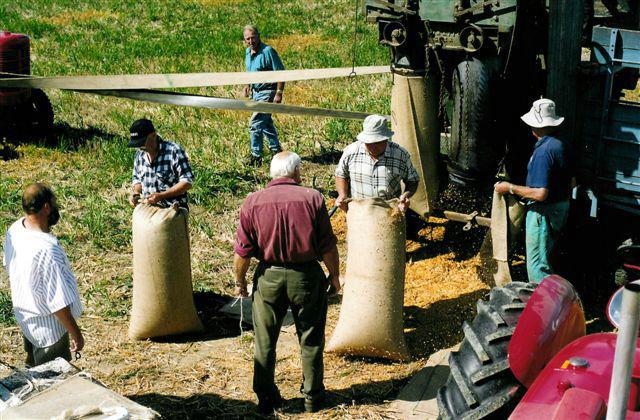 Bagging Chaff at the Plains Museum
Much effort and time has been put into reassembling K88 by a mere handful of keen men dedicated to the task. Certainly there is the K88 Trust Board, but they only supply the money to have the job done. Its men like these few, John French, Dennis Harris, Don Wilson and Ian Smith on whom the second restoration truly depended, for without them it would never have been started let alone finished. They are the ones with all the knowledge of where all the parts go and how everything works.

John French is the General Manager, and he cheerfully admits that he is the one to whom all the responsibility is given, as this second restoration was originally all his idea.

"I'm following in Bob Andersons footsteps," he says, and many of his friends agree with that.

His wife Bev' says he is more often with the K than at home with her. He has not yet taken her vacuum cleaner to the Plains Museum to clean out K88's smoke-box like Bob Anderson did many a time - for one thing, Johns wife would be chasing him with a poker if he were to take it. No, she wouldn't allow rascally behavior of that kind.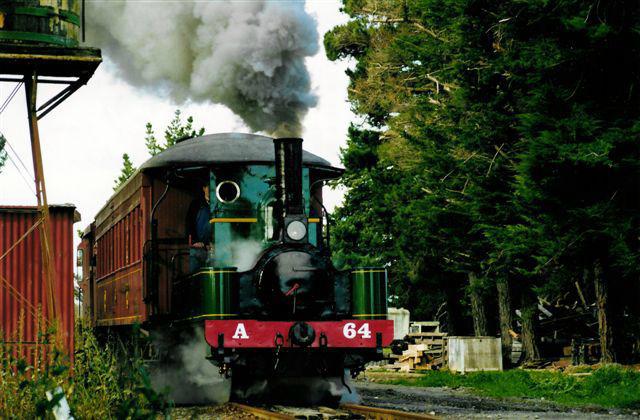 A64 leaving the Station at the Plains Museum
John French is just like the late Bob Anderson in his love for K88. Both men have seen something unusual in the K to make them want to restore her to back to her 19th century glory.

But how different they are in other way's; Bob was a wool buyer who traveled out into the countryside to outlying farms, whereupon John was a motor mechanic in Ashburton before being caught by that little bug that chases certain men after they get to a certain age.

John French and his father were the founders (with Dennis Harris), of the Plain Vintage Railway and Historical Museum at Tinwald back in the early 1970s. They all use to meet with their traction engines in the grass field which today is where K88 resides - but all that is another story to be told one day.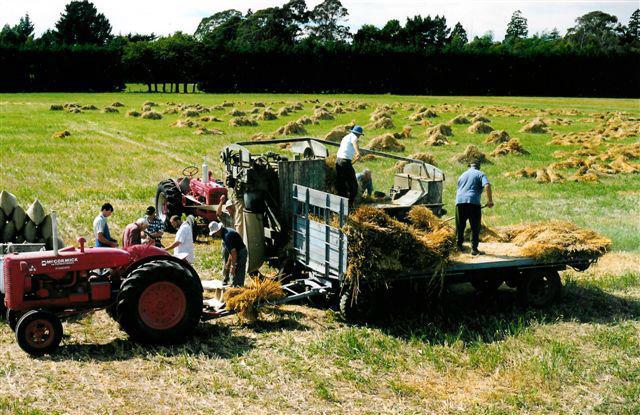 Chaff Cutting
Dennis Harris a gruff, kindly man with a shock of white hair and a twinkle in his eye, is the Plains Museums Chief Engineer.

At the beginning of the second restoration Dennis saw his friend John French often working late into the night on the K just like Bob Anderson use to do. Dennis could see that it was going to be a tremendous job especially if John was to tackle it alone; he felt sorry for him and went to help him - right to the completion.

That is true friendship. These two men were the backbone of K88's second restoration.

Whenever something goes amiss or needs that final touch, Dennis is the man with the expertise to eye up the situation and promptly put it to rights. He well remembers the day when K88 arrived at the Plains Museum back in 1974.

"It was a heap of junk and should have never have been lifted - it should have stayed where it was," he once said, but as the time has passed he has grown to be a part of this second restoration just like the others.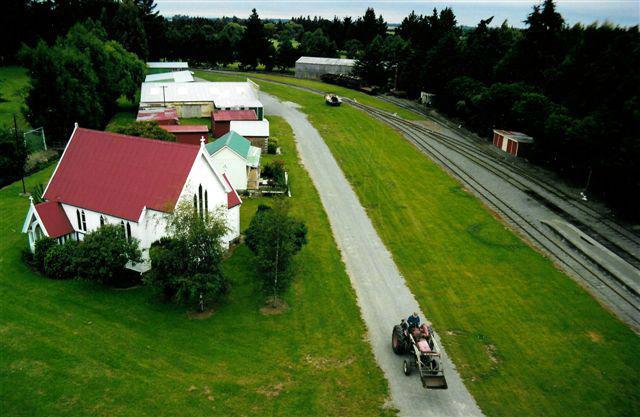 View from the Fire Station Tower
Don Wilson is a tall giant of a man with a deep gentle voice and a warm friendly nature; once a farmer but nowadays working at the Ashburton College. He was a friend of Bob Andersons and worked alongside him during the first restoration. His help was needed during the second restoration as he knew where many of the unfamiliar parts went; the brake gear was his specialty.

His remarkable habit of making the best of a bad job certainly helps along those in his company.

On the day when K88 arrived on the back of the truck in 1974 he exclaimed with horror:

"It will never go. It will never, never go. No! It will never ever go!"

Once he saw Bob Anderson start work and the K slowly begin to look something, he was very glad to apologize and knuckle in and help with the restoration. His greatest disappointment is that he cannot spend as much time as he would like at the Museum because he is too busy working - at the College. Don summed up his future like this:

"As soon as I retire I will be round at the Plains every day - only K88 will be restored by then!"

Ian Smith, a fit athletic man of average build, with a cheerful likeable nature; he is always ready to enjoy a break for a chat and a laugh, even whilst on the toughest of job's. He is an expert welder, dedicated to his work; just the man that the Plains Museum was looking out for. Since his arrival a couple of years ago he has become a real enthusiast in getting steam engines up and running.

As a member of the local photo and video club in Ashburton he enjoys those running days when the Dubs A64 of 1873 vintage is in steam. Its even better still for both him and his fellow members when K88 is steamed up. They all enjoy coming to the Plains, as it is a pleasant way of spending time on their favorite hobbie.

There is three other men whose names should be etched in the history of K88. These three are very underrated in the eye's of the world; most people are unaware of the incredibly good job they do. This is explained as follows......

Unbeknown to most people the Plains Vintage Railway and Historical Museum is the only railway society in New Zealand that has a farming side to it which keeps the railway in operational order.

Oats, Barley, Spuds and Peas to name just a few of the things planted and harvested using vintage machinery. The oldest piece of equipment is a harvester made in 1917.

Chaff is obtained from the Oats; the Plain Museums vintage chaff cutter is the only means of getting chaff for many miles around, so during the harvest season they never seem to have enough of it - the chaff is almost sold before its cut!

The Plains Museum at Christmas is a time when all the members come together, to busily bring in the harvest. That's the time when all the locals come to buy what hasn't had time to get to the market's - freshly dug spuds and freshly picked green peas.

If you come one year in mid December, just drive through the beautifully restored museum village with the railway station on the right and the blacksmiths workshop on the left. Then go past the old windmill on the right to the back paddock where you will find an immaculately restored Lanz Bulldog or Massey Harris tractor drawing a veritable old potato digger with a group of people walking slowly behind with bent backs and half full buckets; they will be the 'spud diggers.'

Perhaps you may arrive to find a lot of cars in the very centre of the field with a long line of men sitting on boxes chattering and laughing quietly amongst them-selves, but with their hands very busy. They will be the 'Pea pickers.'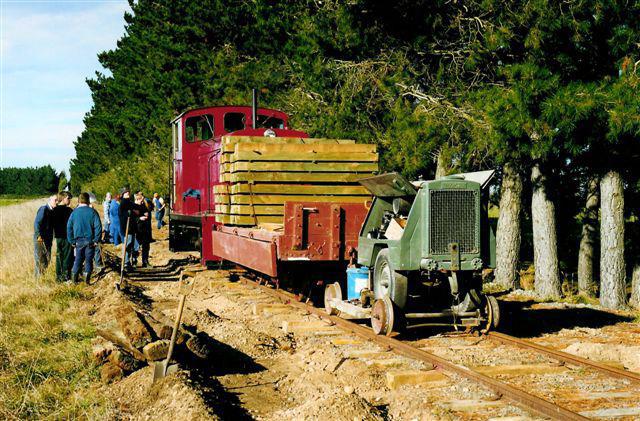 The Track-work team in action
You may not wish to get dirty digging your own spuds or waste time picking your own peas, so out of the kindness of their hearts they have provided a place for those few too buy their produce - from the engine shed. But mark my words, one does gain a great deal of pleasure working for ones food - even if it means getting a little dirty!

In charge of the operations is these three men........

Ron Hayward the President of the Plains Museum is a retired Ashburton business man. He is always extremely busy, often seen working hard around the museum, station or farm in his old overalls; maybe one might see him during his rest time, still in his old overalls, but leaning on a gate or fence, chatting to the visitors with an old world charm, sweetness and sincerity that could only come from Ron himself.

Bruce Richie, a gruff rather shy man with a heart of gold. He lives in Tinwald not far from the Plains Museum, which means that he is one of the most regular workers there. He is a very good faithful worker; every time one sees him, a paint brush or some other tool will be found in his hand - Oh! but how he always finds time for a chat, either with the visitors or some of his many friends.

Murray Oakley is the third of these willing workers. He also lives just around from the museum in Tinwald. A very nice friendly man; he is always willing to turn his hand immediately to any job, no matter how messy or how large it may be. Murray and Bruce are great friends; they love to work together as much as they can. They both spend as much of their time as possible at the museum.

There were of course many other unsung heroes who worked around K88 and the Museum site. They all do a tremendous job and it's only because of them that K88 and the little museum village is in such beautiful condition.